And before drums...
In my past life I was a bass player.

I formed Linus back in '90.

After Linus I spent a little time pretending to be a keyboard player for Umbrella Heaven.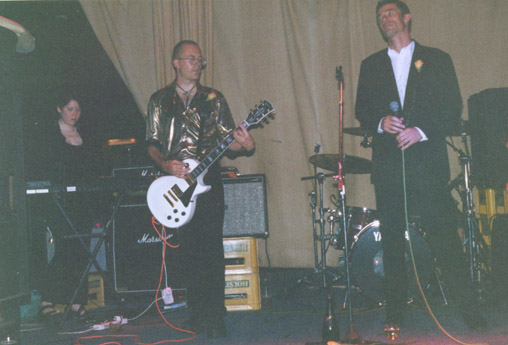 In 1999, I saw Eugene Wolstenholme (a friend of Baxendale) play a solo gig. It sounded to me like he needed a bass player, so I offered my services. I spent about 3 years playing gigs with Eugene, in the form of Long Good Luck. He says this about the band...
His songs are witty and lovely. He's gone solo and working on some new material, but here's some songs we did: Drinking my Giro and Twerlies.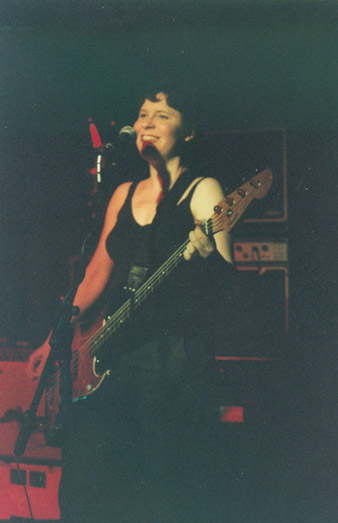 So here's the whole list of life before drums
Linus 1989 - 1997 Bass guitar
1 LP on Elemental Records, 2 singles on Elemental and Bone Records, 1 compilation EP(on Wiija records)
Supports for John Spencer, Hole, Sebadoh, Trumans Water, Bikini Kill at some very large venues!
2 tours with AC Acoustics and Scrawl

And I think we even did a Mark Lamarr radio session.
Phoenix Festival '94
Various reviews and interviews in NME, Melody Maker, fanzines
US Tour to CMJ, Washingdon, Philedelphia, played with Sonic Boom Mini-tour in Spain. Ok, one gig in Madrid, actually. A weekend.

Umbrella Heaven 1998-2000 Keyboards

1 LP - Light Sleeper on Boogle Wonderland records

We played the Bull and Gate a lot, and I think once they supported Sidi Bou Said, but I may not have been keyboarding then. My memory's a bit hazy here. We also played 1 wedding and 1 living room.

Long Good Luck 1999-2002 Bass Guitar
1 single on Evil World Records
Supported Baxendale once.. Played the Bull&Gate a lot, and also the 12-bar. Also once played the Astoria for a weird charity gig that 30 people came to. I'll ask Eugene to contribute a bit more history here.


Record Label
I did a little singles label called Evil World Records for a few years between '99 and '01.

We released exactly 5:
Ant - I hope you'll always be there
Baxendale - An American Friend

Long Good Luck - She's in Control

Deletia - Thinking dogs for the stupid

the Lollies - Channel Heaven

Aside from the first 2 releases, the artists may still have copies of the singles to sell.

I can really recommend GZ Digital Media for all your heavy vinyl manufacturing needs. They rocked!


Festival
PIAO festival 1994 First London gig for Gorky's Zygotic Mynci, among others. See Linus site for more details.