I'm a London-based lady drummer.


Currently I'm band-less. Available for sessions/subs/one-offs or a good band if one comes along!


In 2011 I played with The Monochrome Set. Did a show, a radio session and drummed on their album in the first half of 2012.


From 2004 - 2010 I played regularly for Scarlet's Well, until the band became defunct.


I also played a while for Small Crew. Quality indie pop, great tunes.


I also did my time once or twice onstage with Keith Top Of The Pops And His Minor UK Indie Celebrity Allstar Backing Band, which was literally show up, start playing, and get to know the musicians who did the gig with you afterwards! Lots of fun.


I also played with the Deptford Beach Babes a few years back. Great fun to play in the surf style, with sunglasses and grass skirts, naturally.


The New Royal Family was legendary. What a blast that was - the last ever show was a storming one at the Buffalo Bar on 13th Feb, 2010. We were all quite emotional by the end..


The the Low Edges were another band I was in for a few years. I played for them from 05-07. They were country-punk, a bit like the Violent Femmes (though they claim never to have heard them!). Peter moved up north, and got fed up with always schlepping down south to play the fragrant venues of Shoreditch. There's an excellent recording - the single that never was - I've shared it with you all here. The singer, James, is now in the excellent Gyratory System.


I played a gig in '07 drumming for the the Dreamers, which was Kevin Wright and Sarah from Action Biker. It was a lovely show at the Luminaire, with a friendly audience, and we only had 2 rehearsals!


I played some fun shows as part of the lovely The Mystery Fax Machine Orchestra in '06-'07. They're still going, check them out!


Sometimes I do one-offs, or part-time drumming. I recorded a few sessions for Horowitz, who have produced an LP out of it! I had an occasional band called the Shallows, a 2-piece with Andy Roberts, but sadly we only played 2 shows. In 2008 I played for the Monochrome Set at the Cherry Red 30th anneversary party.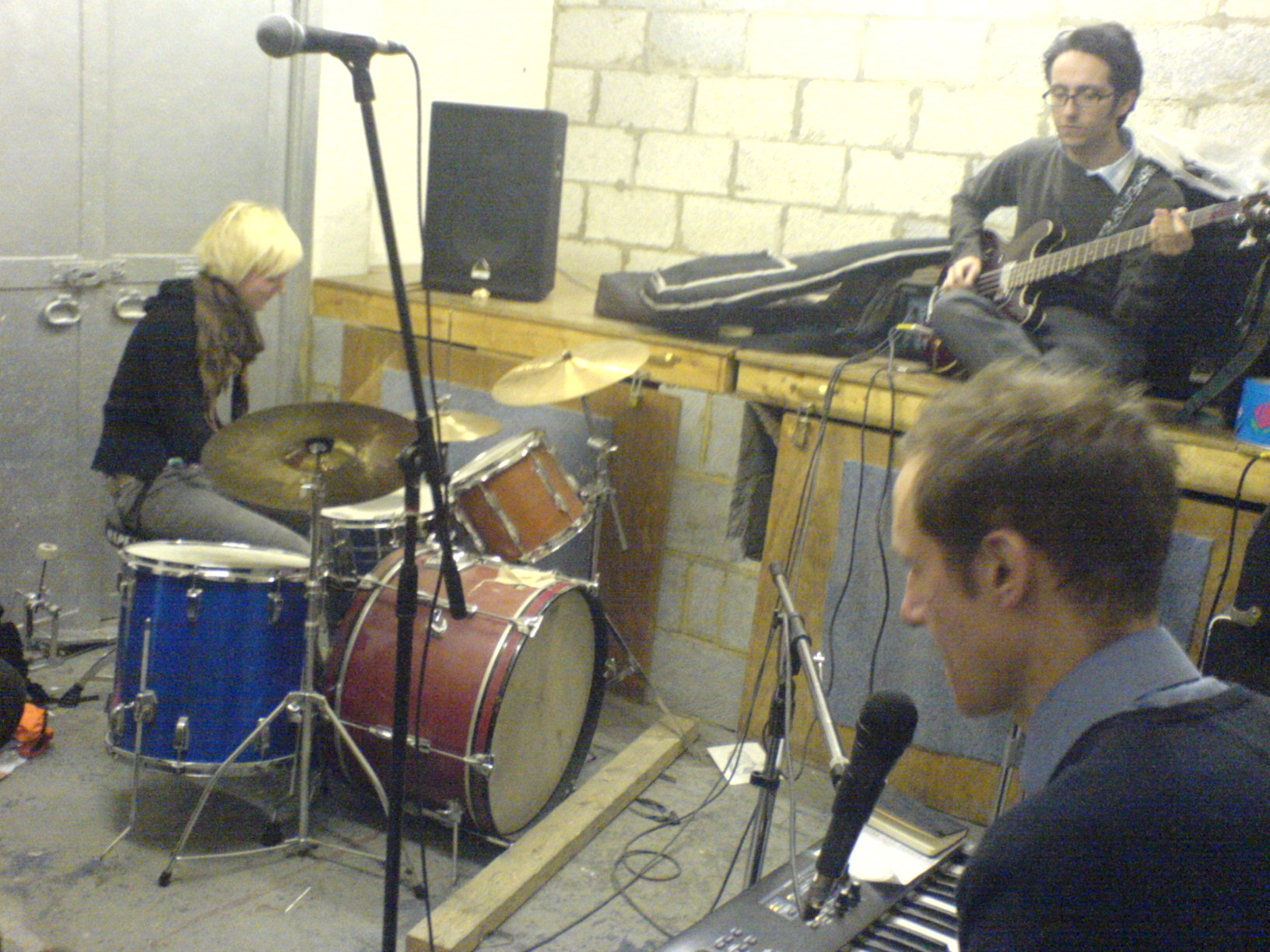 Why I started drumming
Well, my dad was a drummer and he always drummed on the steering wheel, and the table. And he was obsessed with music - he would tape the new entries in Casey Kasem's top 40 every Sunday, so I was bound to love pop music. He had a kit when I was about 13, but beyond attempting to teach me paradiddles (I couldn't get my head round them) I never tried the drums. Family drumming.
I moved to London, learned bass (4 strings=easy?), and played bass for years. In my mid-20's my desire to be a musician was put on hold for a couple of years. But after a while, I couldn't resist, and I took up keyboards with Umbrella Heaven for something to do. We switched instruments for fun at one point in a rehearsal. One day, I got on the drums and the whole way through a song. And at the end I was in love, and knew I had to learn.

lessons
My friend Tim (Guitarist of Umbrella Heaven, drummer of Long Good Luck) gave me my first lesson, where he taught me how to play the ride with the right hand and co-ordinate arms and legs. (I've tried his method with other people since, and I'm convinced that everyone can get it in one lesson!) Since then, I've been taking lessons at The Planet Drum. They really push me to keep learning. I have given a few lessons, to a few people my age and once to 20+ 6-12 year old kids - at once! I'm not a qualified teacher, though. I reckon I can teach a beginner for about 3-4 months before they should find someone qualified!

favourite drummers
There's so many! Am I allowed to say all of them?! I will update this bit after some research...
My drumkits
Eddie Ryan custom kit 'won' on ebay for £200 Sabian 13" Hi-hat, Sabian 20" ride, Zildjan 16" Crash. Ziljan 14" Crash. Should add a second tom.... Yamaha e-drums set.

Some other drumming jobs
A few years after my drumming epiphany I was still wavering between Bass and Drums, playing drums for a sonic youth-y band and a goth band, and bass for an acoust-o pop band which lasted a summer only.

The autumn of 2003 saw me rehearsing with Picture Center to help them out with an album launch gig.

Conrad Vingoe was the guitarist for the summer's bass playing band. He asked me to drum and play bass on his demo in December 2003. I think he's doing good things in South England..


I also joined a group called Faster, who played REM-y type songs with energy and passion. Unfortunately, the début gig with me never happened, as the venue we were booked into burned down a week before the gig. an omen? But they were really sweet guys, and thanks to them for letting me put some tracks I drummed on up on the Recording page.


I played with The Debutante until mid '06, who played tuneful country/pop/rock with added flute&violin. A really nice bunch, too.



My bass playing years...
So I spent a few years as a bass player.. If you're still reading this and want to read about that, well, go here.
You can mail me here.
Twitter: @Drummygirl