Touring with a baby on the way!
It was so hard to find information about drumming while pregnant, so I've written this in case any other women drummers find themselves in the same situation. It will be different for everyone, but this is what it was like for me.

The Monochrome Set got back together in 2011 and I was asked to drum for them. They go all over the world, and play good shows, and have great music, so I was REALLY excited about it all. (By the way, if you want more information about the band or gigs, or merch, then go to their site - there's loads of stuff over there.)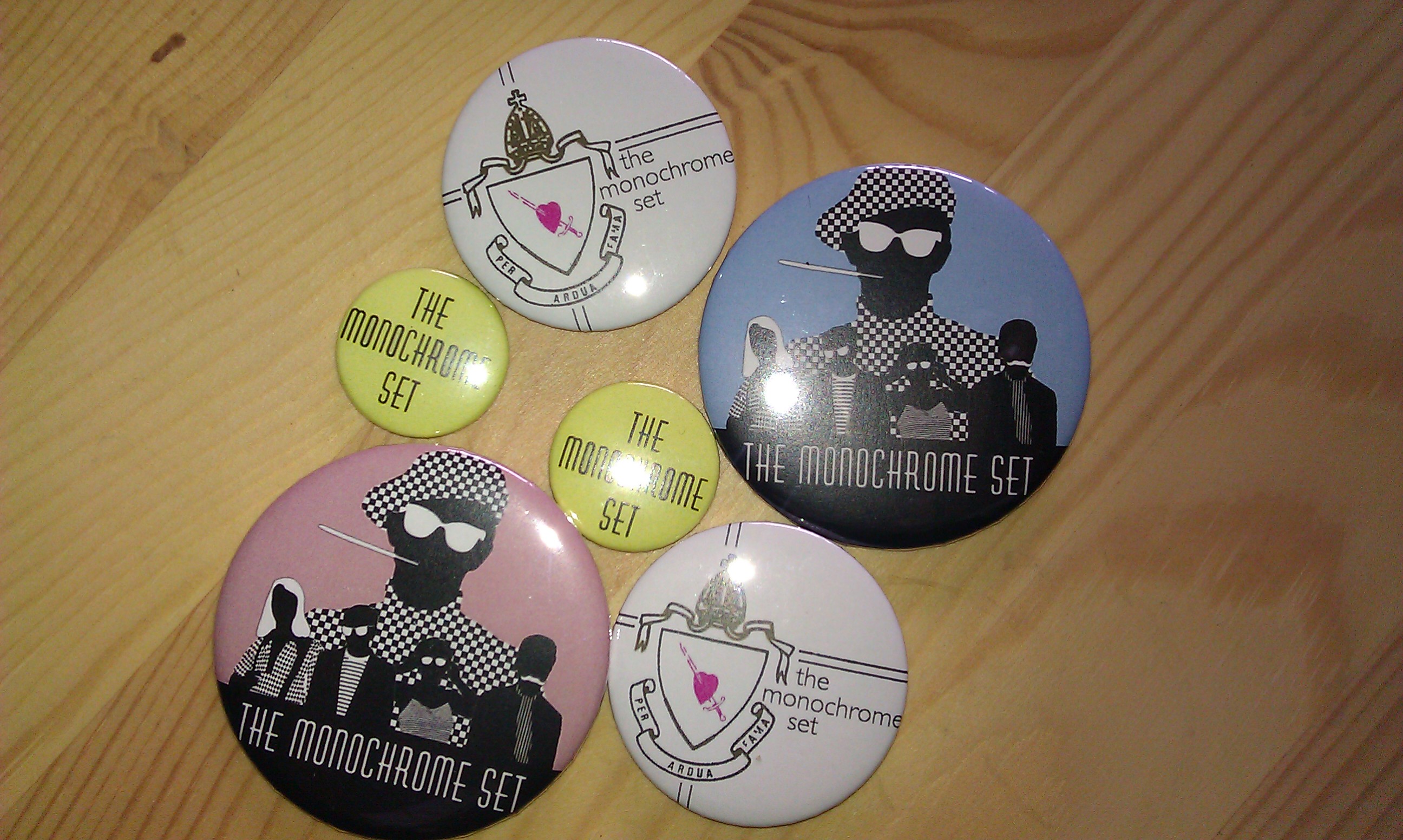 Then, in January, before it all kicked off, I found out I was pregnant! I also was due to go on a ski trip the week I found out. Hm, downhill skiing not recommended by all the books, but plenty of people online had good experiences, so, I went anyway.


THAT went OK, so I decided that I could honor my drumming commitments, too. I thought it might be nice to tell the baby when she's older that she's been all over the world, onstage, in a band.


We had a few rehearsals, then the touring schedule looked like this: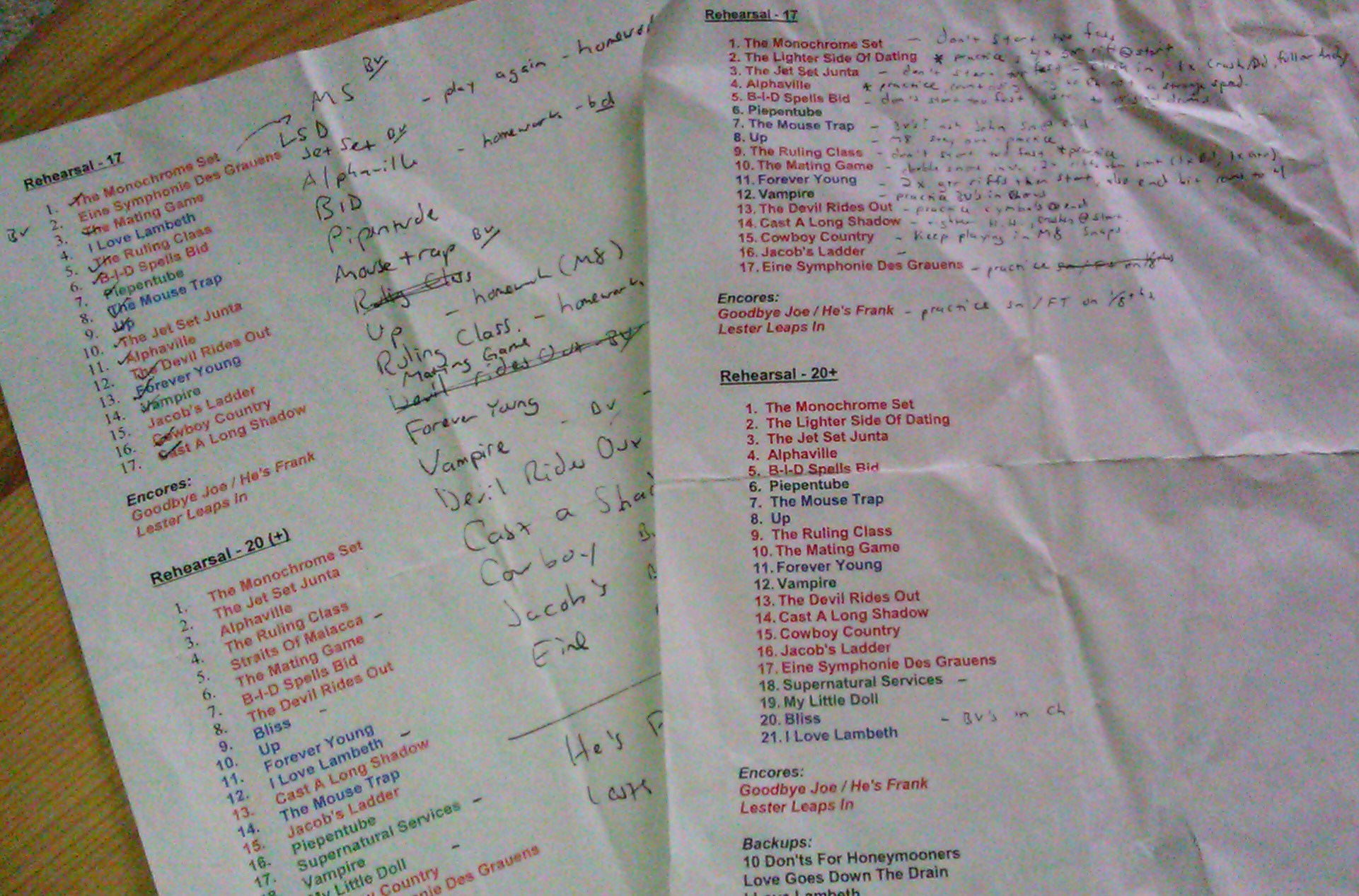 February:
19 – radio session on London's Resonance FM
21 – radio session for Marc Riley on radio 6 in Manchester.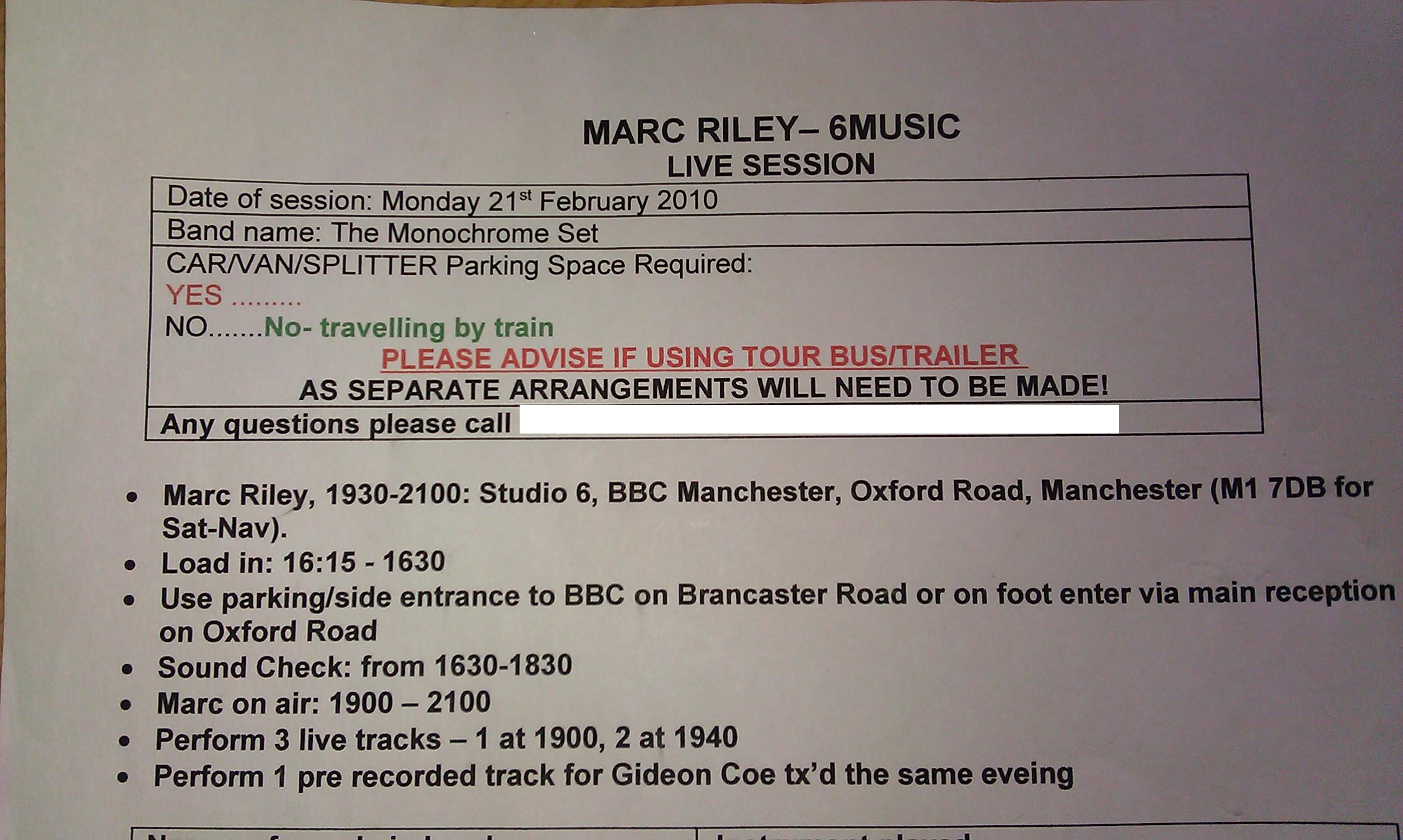 26 - London Popfest, 100 Club – London. *first gig*

March:
12 - L'Aéronef – Lille, France
26 - Mono - Glasgow 

April:
9 - Shimokitazawa Garden – Tokyo, Japan 
10 - Takadanobaba Area - Tokyo 
12 - Osaka Muse Hall - Osaka 
19 - Club Schocken – Stuttgart, Germany 
20 - WestGermany - Berlin 
21 - Silber - Hamburg 
22 - Strumglocke - Hannover 
23 - King Georg - Cologne followed by a gig at the Salon des Amateurs in Dussledorf on the same night!

May:
7 - PassPort - Piraeus – Athens, Greece 
27 – Primavera Festival, Barcelona, Spain

June:
12 - Dingwalls - London 
18 - The Thunderbolt - Bristol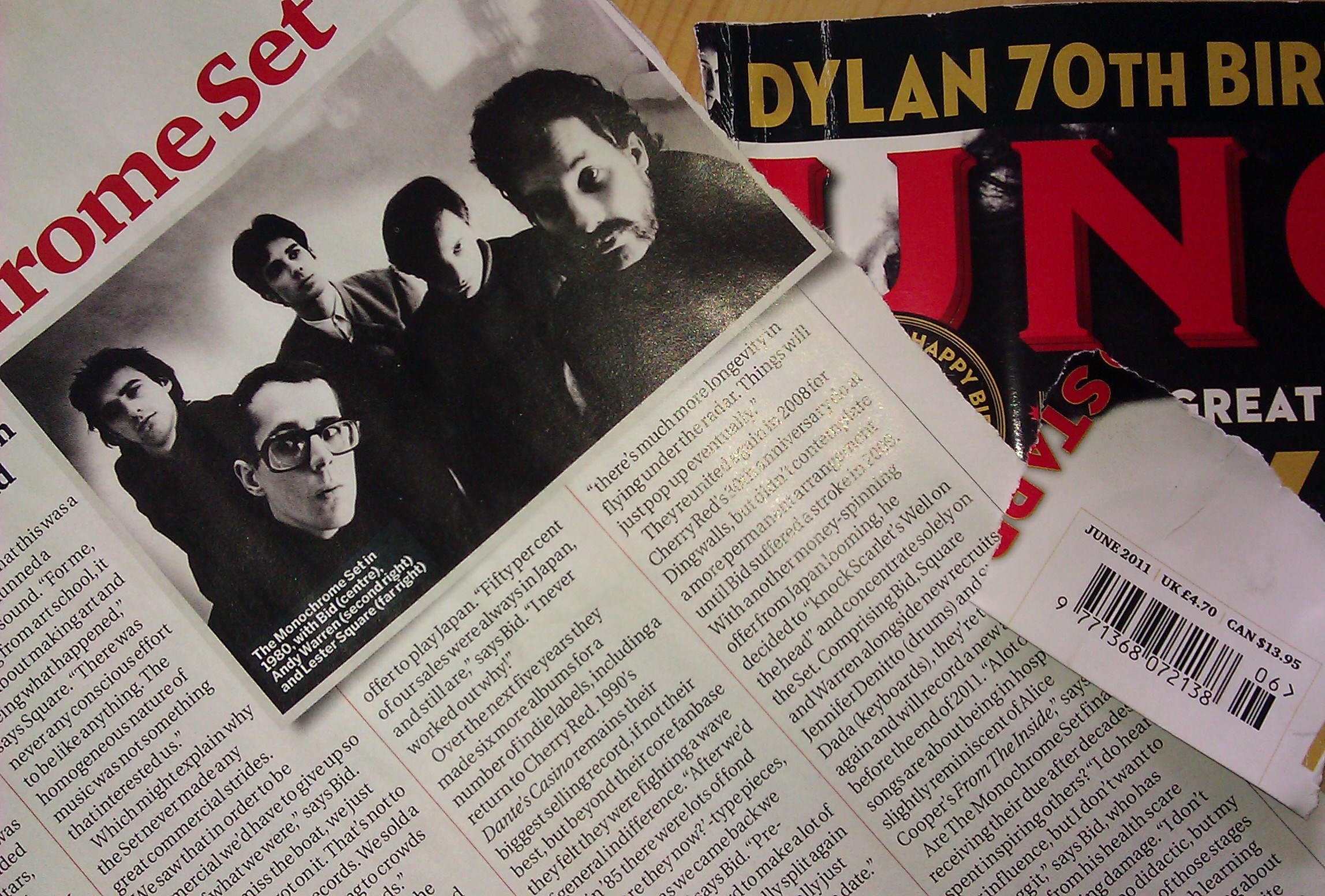 So, all in all it was a bit busy! It's probably the most UN-rock and roll tour I've ever done, and at first I had to keep it a secret! (It's best to wait for the 12 week scan before spreading the happy news.) I definitely already had baby brain (or 'Mumnesia' as the bass player called it) by the Resonance session – I buzzed at the wrong gate for 20 minutes, before getting in, realizing I was in the wrong place. I missed most of the soundcheck, which would have been a good rehearsal, as it was the first time the band played for an audience since 2008. Oh dear.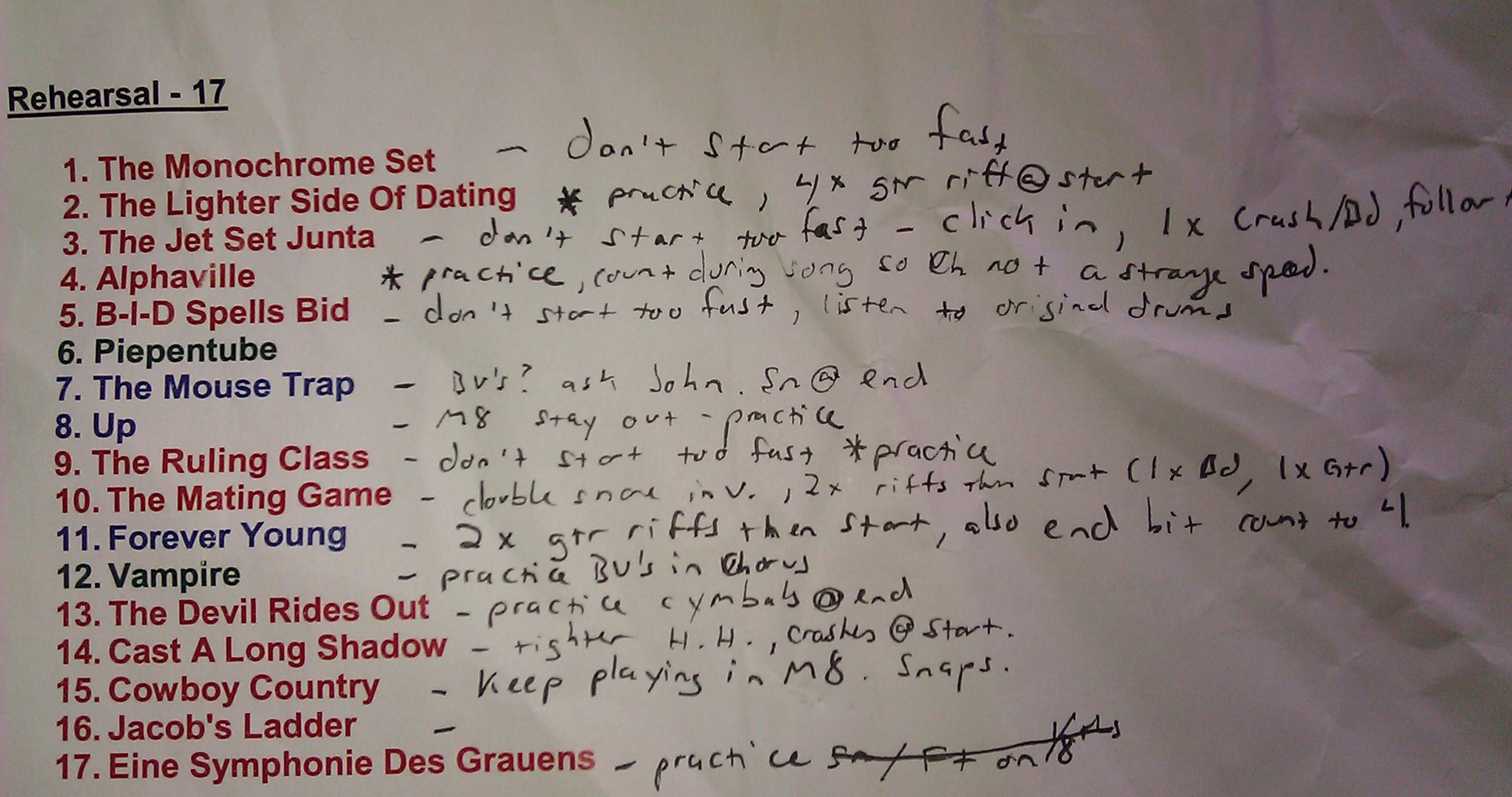 Until after the Lille show, I had to do a lot of tactics to make sure no one saw me NOT drinking. Like rushing off home at the London show, or avoiding the rest of the band and saying I was too tired to attend any aftershow shenanigans. Thankfully, I was not getting any morning sickness I couldn't handle, and I was getting plenty of sleep so weekend gigs were manageable.


By the time we played Glasgow I was finally allowed to tell everyone. The band was very accommodating and agreed that I could do all the shows I had committed to, which would take me up till June. I had already arranged a fill-in for Stockholm in May I genuinely couldn't do due to work commitments, and he agreed to take over from me after June during my 'maternity leave'.


So in Glasgow, the gig was so well received. Alex Kapranos from Franz Ferdinand joined us onstage for the encore, so my baby has shared a stage with a proper rock star! After the show, I wanted to stay out since I didn't have to hide my teetotal state. Unfortunately, that's the one gig where no one could find a bar open past 1am, and we all wandered the streets until 3am on a failed mission.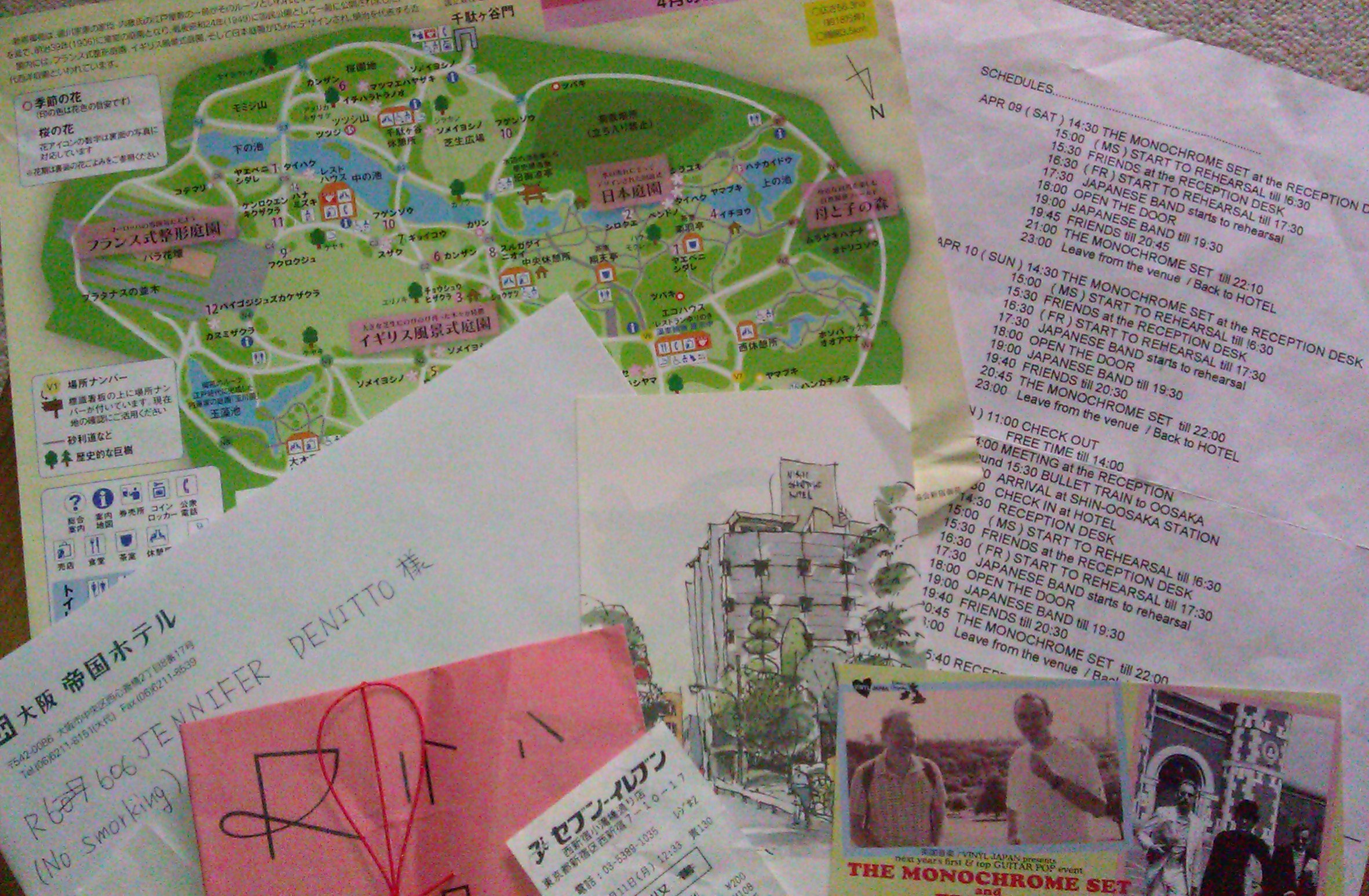 In April were the tours - Japan and Germany. The Tsunami and Nuclear situation had happened just a few weeks before, and it was really difficult to find out safety information. I did a LOT of research to figure out if it was safe to expose my baby to Japan. I work for a firm that has an office in Japan, and was able to get fairly good information that Tokyo and Osaka were not at radiation risk. Then I talked to my midwife about long flights and DVT, and it looked like radiation exposure during a longhaul flight was more to be concerned about.


I didn't get a lot of sleep on the way over, and was jetlagged, so I spent a lot of time in my hotel room, resting. We got to experience a doozy of an aftershock but everything was OK. Then we played the shows. I was tired before, and after, but my goodness during the show it was so exciting! The audience cheered, sang along, POGO'd and it was a great experience. And then, after that, I was not tired again for any of the gigs. I suppose I had conditioned myself to play for an hour and singing the BVs meant I kept my aerobic levels up.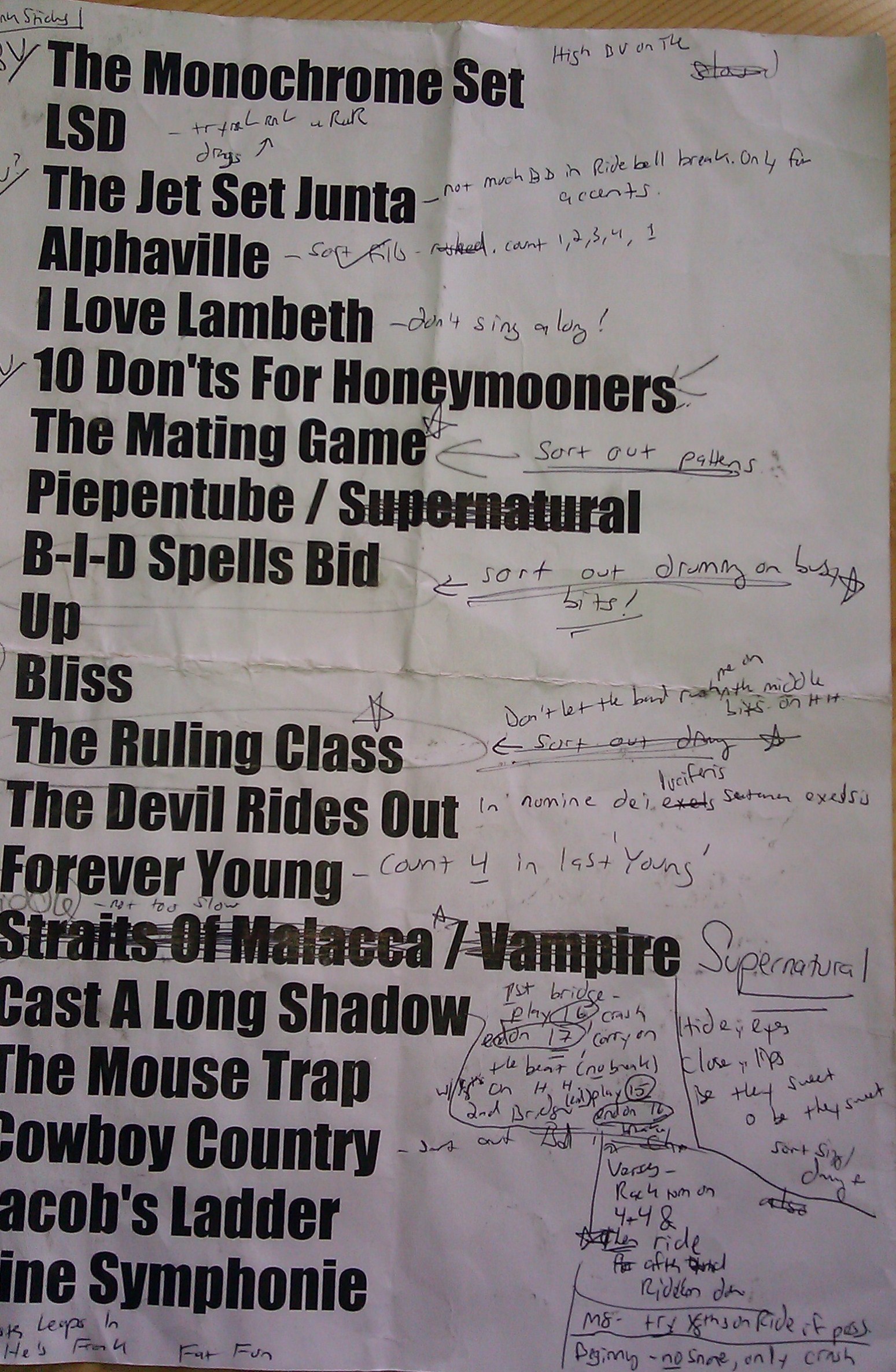 Aftershows meant no drinking, but I was awake, so participated in some bar-going and eating after shows. One bar, the Rock Inn, was AWESOME. All I need to say is that the playlist included Kansas and Journey. I didn't stay out all night with the rest of the group because of cigarette smoke – unfortunately in Japan you can smoke inside. Being un-rock and roll, I DID get to see the cherry blossoms on a morning off, that was lovely. Pictures of Japan are here.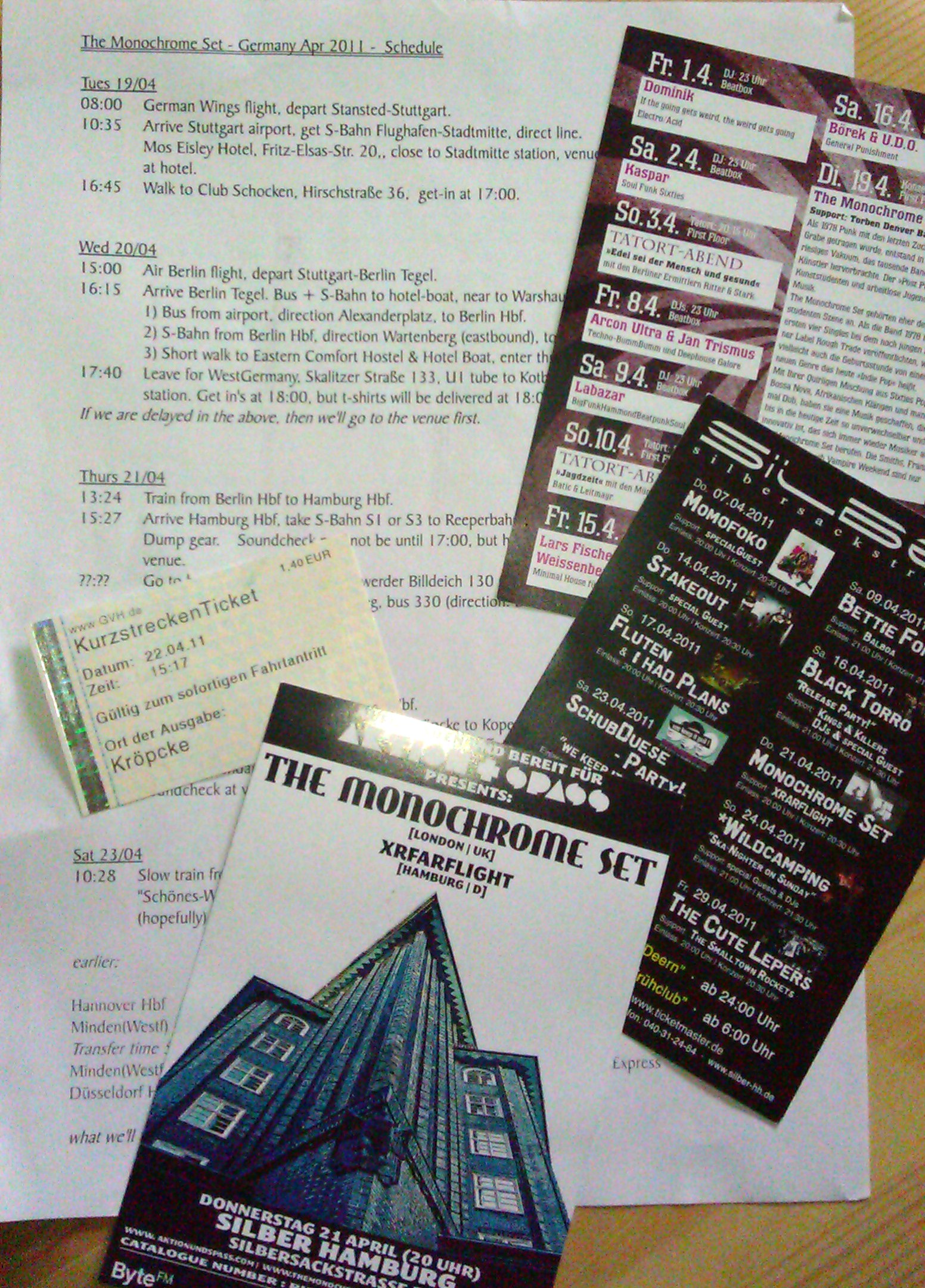 Cigarette smoke proved to be prevalent in Germany, too. Hannover stands out in my mind. The type of cigarettes they were smoking in the squat we played at was not your standard tobacco. Ahem. After half an hour I started to feel light-headed. Oh no! Once I was back at the hotel (4am!) I had stay up for a bit to look up "effects of marijuana" on my favorite pregnancy sites and forums. Well, it turns out that second-hand smoke should be avoided, but if you get caught out once or twice it's no problem for the baby. Some ladies on those forums were very militant about their right to smoke weed a lot throughout their pregnancies. I can't say I think that's the *best* idea, but at least felt reassured that rock and roll did not damage my baby on that occasion.


Generally, all the gigs were amazing, the crowds fantastic, and I played better and better. Germany pictures are here.


Then, back in London, at the very end of April I had a midwife appointment, and we could hear the baby's heartbeat, so I figured that everything was healthy and the touring was still not a problem. Yay!


Greece next, and then I had a few weeks off. During that time I had my second scan, and baby was still fine (a girl!) so I knew I could do a bit more drumming.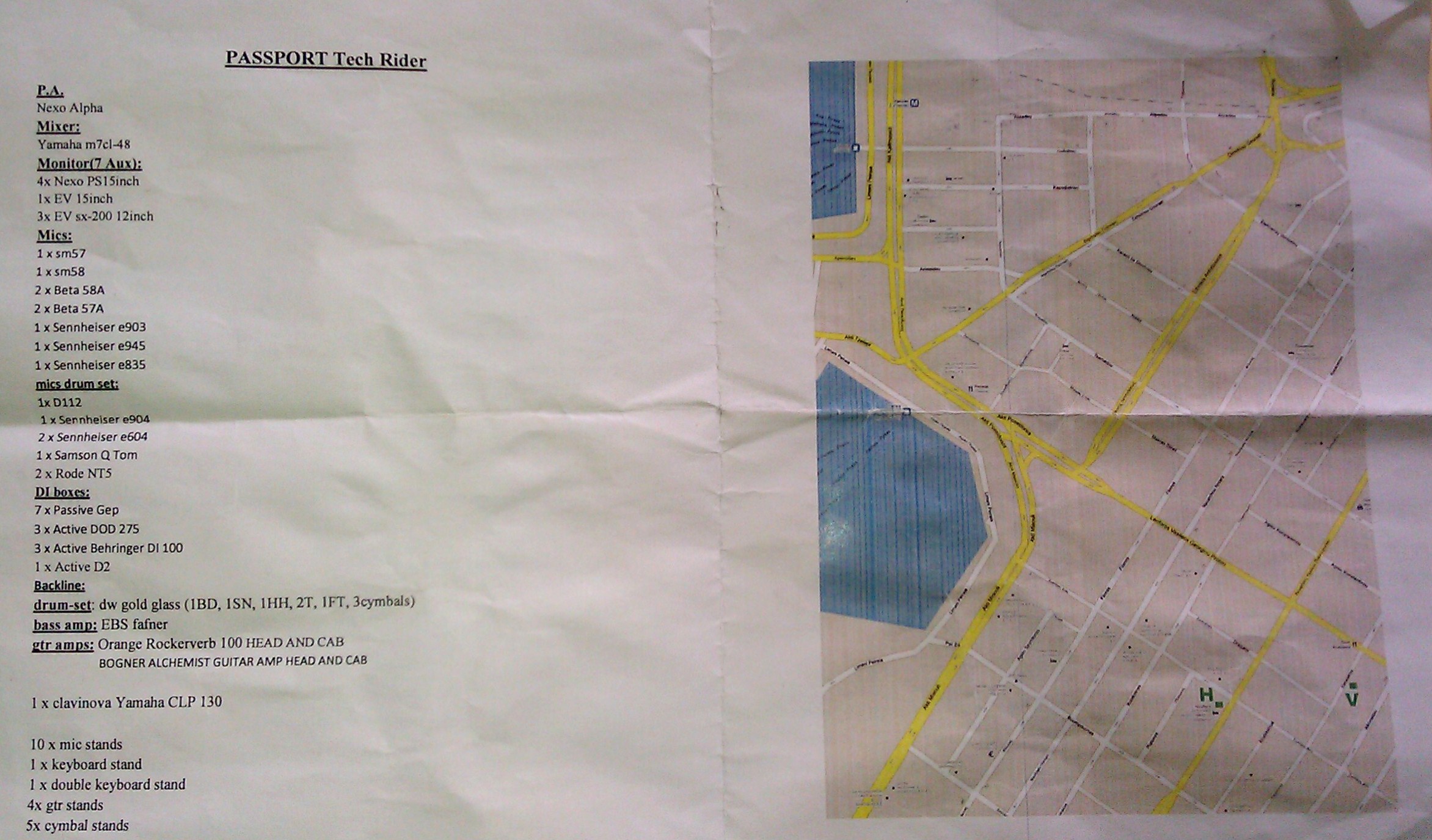 By the time I got to Primavera at the end of May, though it started to get a little bit physically challenging. I was coming into my 6th month of pregnancy! It was a big festival, with a massive stage, and I had drum roadies setting up stuff for me! Backstage was lovely, and between soundcheck and gig I hung out at the beach, which was right next to the festival site. The gig itself was great (and there was some good, professional videoing going on – you can see my bump!), but I stayed out really late again and then felt over-tired. The worst part of it was that the next day I was too tired to go back to the festival site with the guys and check out some soundchecks. They saw Einstürzende Neubauten & John Cale and I was really jealous!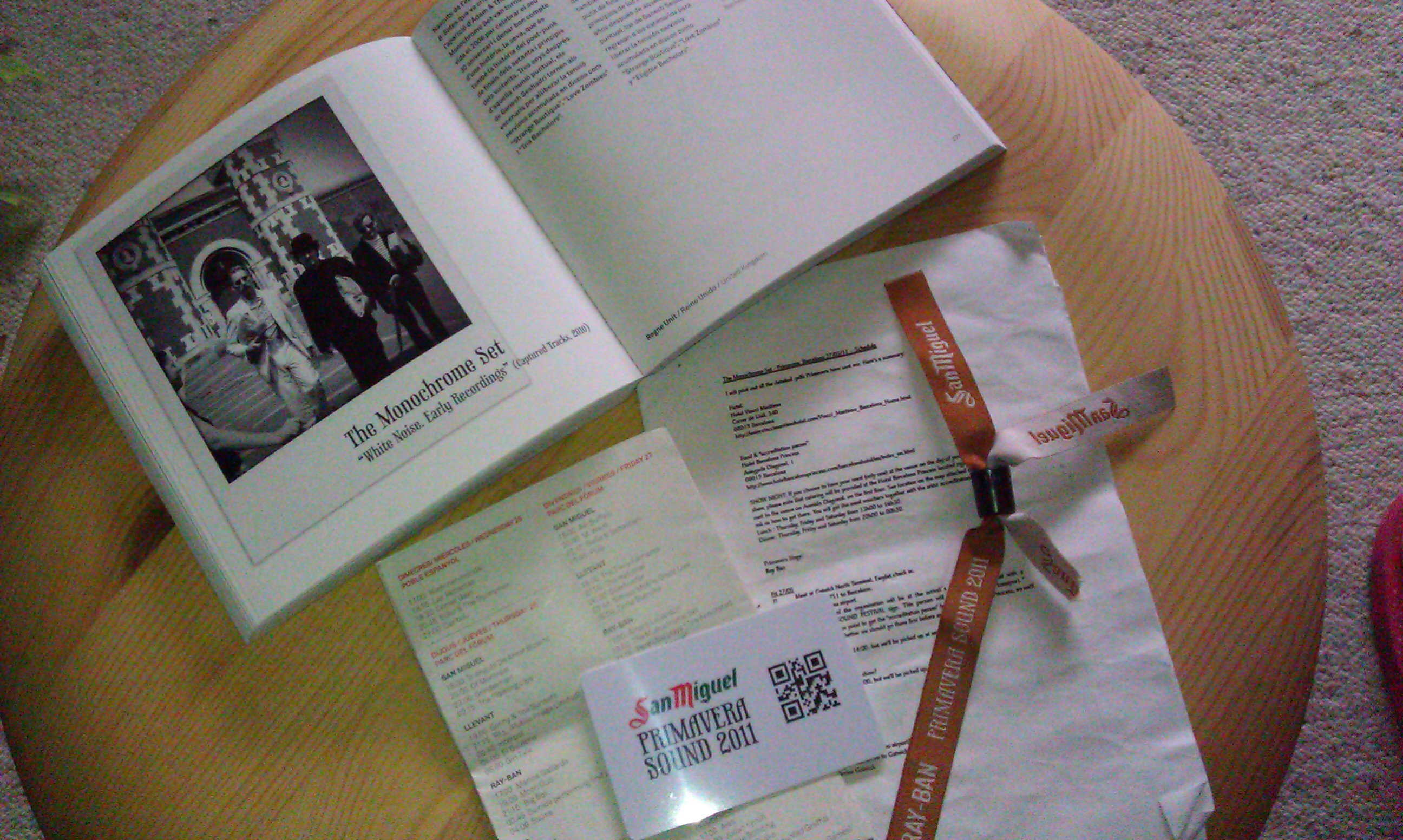 That was my last overseas trip.


Still a few more to go - Dingwalls in London was good. I didn't have to drive my drums – there was a man with van – and a guy from my drum school agreed to be my drum roadie, which really helped! My final show was Bristol one week later. *sniff* Again, a fantastic show with an amazing crowd. I tell you what, those Monochrome Set gigs and audiences were so consistently great it was a real pleasure to do it all.


In perfect timing, about a week after Bristol, I reached the stage that I really couldn't get any value from my drum lessons, as I was too tired. Propping myself up on the snare drum, waddling up to Camden – not really worth it. I'd been intending do practice rudiments/etc at home, but to be honest my ligaments were softening so everything had to wait until after the baby arrives.


Now I have plenty of photos and videos to show the baby when she's older. AND, she seemed to stop wriggling when I drummed, so here's looking forward to either send her off to sleep by practicing, or practice when she's having a nap. She'll need her to nap in my practice room though! Thank goodness for e-drums.


I can't imagine giving up drumming so I'll see what is logistically possible for lessons, gigs and recording after she's born. I am penciled in to help out with the Monochrome Set album recording, and some gigs next spring. Everything will be different, but if I can be organised enough I'd love to still drum - at the very least so she will become a drummer too, and carry on the family tradition!


One other thing that was nice to do during this time - I had the opportunity to be in Prima Baby as July's Second Trimester Pregnancy Diary. It was a nice photoshoot and again got to chat about drumming in pregnancy – maybe it was useful for some readers of the magazine!